IN THE CELLAR
We have a wide range of real ales from a variety of sources that we offer. You will find that we change our range frequently and you will be able to keep track of it all here.
6X
abv: 4.1%
Brown & Refreshing
The classic premium ale that has made Wadworth famous. Well known and respected, 6X is a beacon on the bar for many ale drinkers. Full bodied and distinctive, 6X remains one of the South's most famous beers. The beer is mid-brown in colour, malty and fruity with balancing hop character.

Brewery Website

Henry's IPA
abv: 3.6%
Golden & Refreshing
Named after Henry Wadworth, a light bronze ale with delicate malt aromas. An easy drinking style with cereal notes and a lingering finish, a great session beer


Brewery Website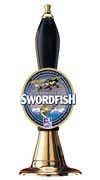 Swordfish
abv: 5.0%
Dark & Smooth
A unique blend of Wadworth beer and Pusser's Navy Rum. Brewed to support the 100 year anniversary of the Fleet Air Arm, but now available all year due to its growing popularity. With a gentle rum aroma and dark, unrefined sugar adding a rich smoothness, it is a full-bodied, deep copper coloured ale with a base of crystal malt and delicate Fuggles and Goldings hops. A very nice pint!